Race name
RCS 2018 Yokosuka · Asian Championship Round
Date
March 31, 2018 (Round 3) · April 1 (Round 4) AM 8:00 to 17:00
Organizer
Run Bike Championship Series
Chairperson: Yuki Takahira
Venue
Soleil no oka
Kanagawa prefecture Yokosuka city Nagai 4
Road surface asphalt
※ The main course will be around 250m.
※ 2 years class · 3 years class will be held at short course 150 m.
※ Start is the way the start gate opens according to the signal sound.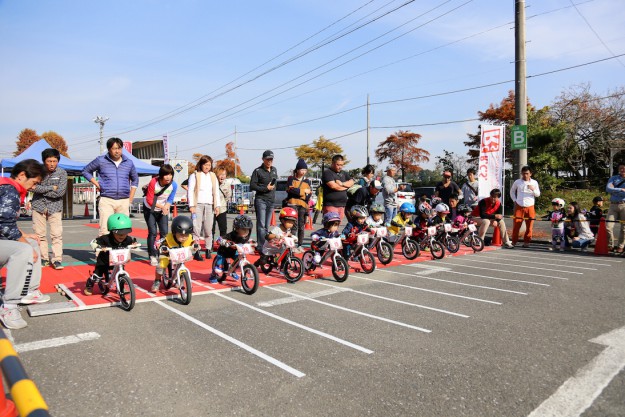 Signal sound
Class
2 years old class, 3 years old class, 4 years old class, 5 years old class, 6 years old class, 7. and 8 years old class, OPEN class
point system
Runbike Championship Series gives points for the year and competes for the annual rankings with a one-year grade.
It is a point system of only 24 top classes of each class A and B finalists.
The series points are given below.

About entry class
Since RCS will be held in an annual series battle, we hold 12 races a year based on the birth month of each player in order to equally give all participants a chance. Please note that it is different from normal classification at full age.
※ Round3 (3/31) will be classified at full age on February 28, 2018
※ Round4 (4/1) will be classified at full age as of March 31, 2018
Entry fee
Runbike Championship Series = 3,500 yen/1day
The entry fee will be paid in cash on the day of the race.
Entry procedure
1.Fill out the application form at the bottom of this page.
2.Notice of entry number in official website entry list after all entries are confirmed.
3.You pay the entry fee on the day of the race and you will receive the license plate.
Bike Regulations

Parts other than the frame and front fork can be changed freely.
However, it is limited to runbikes where parents or experts are performing maintenance safely.
Paint and sticker pasting are also available.
Use wheel bases of 660 mm or less.
Use the one whose total length is 960 mm or less.
Use one with a weight of 2,100 g or more.
The handle width should be 530 mm or less at both left and right ends including grip.
Do not split the edge of the grip or expose the metal part of the bar end.

It is essential to wear protective clothing that does not expose the wrist or ankle, helmets with chin straps, gloves, and both elbow knees.

Race Regulations

Start

· When Fanfare begins to ring, the guardian gets off to a predetermined line behind the start grid.
· When fanfare begins to ring, please do not touch the player until the goal. (Except when the staff specifically approves)
· When Fanfare begins to ring, parents will not talk to the rider until the rider starts the start.

All three points of the front wheel lower part, the rear wheel lower part, and the front wheel front part must always be in contact with the start gate until the moment the gate starts to move from the moment the signal tone rang. However, it does not apply to players who can judge difficult such as 2-3 years old class.

Goal
It is considered a goal when the front wheel reaches the finish line.

license plate

The race executive committee prepares a license plate.
Please attach one license plate to the handlebar so that it can be clearly identified.

Passport

Please be sure to bring your passport for entry.
We may ask you for identity verification.
Please consider bringing in in case of injury etc.

Other

During the race, act according to this regulation,
Participants and all teammates / accompanying persons must be responsible for all actions.
You must obey the rules of competition and all the rules of competition control and the direction of the staff.
Competitors can not claim staff accusations, responsibilities or damages.
You are prohibited from entering the runbike at places other than this course and practice course.
While holding an event, you have responsibility for individual property,
No responsibility for other participants and convention staff, such as loss or damage thereof.
In any case during the race, except for the rider & staff Prohibit entering the course.
During the tournament staff, media stakeholders, participants in the shooting taken
Participants do not claim claims or claim such as portrait rights, allowing free use of images and movies.

In the case of stormy we prioritize the event and safety and physical condition management of the rider, in principle may cancel or suspend.
Also, when natural disasters such as earthquakes, accidents, accidents, etc. have an impact, the same countermeasures shall be taken.
In that case, refund of entry fee will not be done at all.
The garbage put out inside the venue must be taken home by each one, the venue facilities (toilet etc.)
To observe the minimum amount of manners to use as beautifully as possible.

Parking Fee

1,000yen